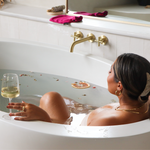 Valentine's Day is not only the day to celebrate the people you love, but it is also the day to celebrate yourself. Take time to take care of yourself, to learn to love yourself and your body. We've prepared a wellness routine to guide you on your new journey to self-love.

It all starts with finding a moment, just for you, without distractions or thoughts. Light a candle to awaken your senses and let the scent transport you to good memories. Your adventure has just begun, prepare a bath with the Rose and Mint Bath Salt. Let the benefits of its 100% natural products soothe your body while moisturizing your skin. The rose petals and the mint leaves will envelop you in their fragrance for a moment that belongs to you.
To relax your mind, listen to relaxing music, watch your favorite show or watch that movie you always add to your list but never find the time to watch. This is your time to do whatever makes you feel good and relaxed.
The last step in your journey to self-love will be to exfoliate. This step does a lot of good to your skin and your mind. Once you are ready, you can get out of the bath, and exfoliate your skin. More you exfoliate, and more you feel your problems and negative thoughts leave your body with al the dead skin. You will feel lighter and relieved while having a beautiful and soft skin.
Loving yourself can be learned and you must give yourself time to do it. Here is an article that will help you to create your own routine by finding things that allow you to relax and let go.
Gift a new self-love routine
If you're looking for gifts for your partner, a friend or yourself, our Valentine's Day gift sets have what you need to take you on that journey. The Relaxation Box for Two includes a Rose and Mint Bath Salt and a White Fir and Peach Candle. This set will awaken all your senses to the world around you !
If you don't know where to start and want to integrate your new relaxation ritual into your routine, the Valentine's Day Gift Set is just what you need. It will take you through every step of your wellness routine. Composed of a Renaissance Glove Exfoliation Set, a Bath Salt, a Sweet Citrus Body Milk, and for your daily use a Hand and Body Soap from our local soap factory LA Marcotterie, plus we have added one muses candle as a free gift to show you more love !It is important to let yourself go at times and succumb to the benefits of a well-being routine to learn to love yourself and your body. Here is an article to learn how to love yourself and live your life to the fullest.
Discover our Valentine's Day section and create your own relaxing routine.