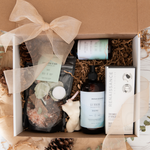 The holidays are a time for giving, receiving and celebrating the season with our loved ones.
We all enjoy discovering new products and what better way to do that than with a gift set ready to gift. To help you find the perfect one, we've put together a Christmas Gift Guide that will allow you to give something special and unique.
This year, whether you're buying for yourself, a friend or a family member, we've selected sets that cover all the basics of wellness: exfoliating, relaxing and de-stressing.
Let's start with The Teenager's Kit:
This kit contains 5 items, a Renaissance Glove Deep Exfoliating Body Mitt, a Sweet Citrus scented Body Milk, and 3 unique lifestyle products in collaboration with Quebec local brands.
By introducing a teenager to exfoliation, you're getting her used to a new wellness routine that can be learned for used for a lifetime. Exfoliation has many benefits such as keeping the skin healthy, blemish free and reducing the persistence of acne on the face and body.
Value: $91
Price: $65
Body and Face Essentials:
This kit has everything you need to keep your skin soft and deeply hydrated. It contains 4 items, a special Christmas red edition Renaissance Glove Body, a Face Exfoliation Set, a Botanical Oil Rose d'Orient and 1 product in collaboration with a local brand.
By exfoliating you will allow your skin to better absorb the Botanical Oil Rose d'Orient and take advantage of all its benefits. The oil is multi-purpose and can be used in the bath, on the skin, on cuticles and in the hair, as it is a 100% natural rose-infused product. Moreover, 5$ of each sale will be to the benefit of Quebec breast cancer foundation.
Value: $87
Price: $55
Home Spa Set:
There is nothing better than being able to make your own spa at home. Enjoy a moment of relaxation and serenity, and for that everything you need is in this Home Spa Set. Composed of 4 items, living a true relaxation experience at home has never been easier, thanks to the Renaissance Glove Deep Exfoliation Body Mitt, the Bath Ritual Kit Boreal, the Sage and one Les Muses candle. This is the perfect gift for the person in your life who likes to treat themselves, or if they just need to relax at the end of a long day.
Value: $97
Price: $65
Face Care Kit:
This gift set is ideal for people who like to discover new skin care trendy products. Containing one face exfoliating accessory, one Botanical Oil Rose d'Orient and 3 unique products in collaboration Quebec Local brands. Bring your skin care routine to a new level with these 5 items that will help you to keep your skin healthy and bring up that glow.
Value: $81
Price: $70
Relaxation Set:
This kit includes all the essentials to relax, exfoliate and moisturize. It contains a Renaissance Glove Exfoliation Kit, a Boreal Bath Ritual Kit, a Eucalyptus Shower Gel, and a Cucumber Body Milk.
Value: $122
Price: $110
Take advantage of this holiday season and these offers to give products that are useful, unique and that your loved ones will thank you for introducing them to. Happy holidays season!