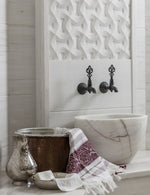 Theme - Body care: The Hammam, an ancestral ritual
An ancient ritual
This ideal practice of eliminating toxins from the body and renewing the skin is known since Greek and Roman antiquity. However, it is strongly associated with the Maghreb countries today. In the oriental tradition, the Hammam is a gathering place for women to wash and detoxify themselves as a form of self-care.
The Hammam ritual
A Hammam session can last between 15 and 30 minutes depending on personal preference. The first step is to relax in the hot steam and let it open the pores of your skin, while the diffusion of eucalyptus essential oil has an antiseptic and cleansing effect. Now the skin is ready for mechanical exfoliation to remove all dead skin cells. This is done with the Renaissance glove, the key element of the Hammam to getting a new skin. You immediately feel softer and silkier. Finally, the last step is a massage with essential oils to moisturize and nourish the skin.
The benefits of the Hammam
The ritual of the Hammam has many health benefits, it:
· Evacuates stress through its relaxing environment
· Deeply cleanses the skin, thanks to the exfoliating glove
· Eliminates toxins since the heat of the Hammam makes you flush toxins
· Activates the blood circulation, thanks to the circular movements of the scrub
· Clears the respiratory tract with the help of eucalyptus essential oils
The Renaissance Glove Ritual
Although the hammam is done in a spa, the Renaissance Glove gives you a Hammam-like experience at home.
To use your Renaissance Glove as close as possible to a Hammam session, simply relax for a few minutes in a warm bath or shower to allow your skin's pores to dilate. Next, soak the glove in water for 30 seconds and then wring it out by rolling it up and down. Remove from the water and make sure your skin is damp and not wet. Your skin is now ready for the scrub: rub the glove vigorously over your skin and watch the skin roll off and the dead skin cells peel off. You can then wash your body with a shower gel, clean your glove and hang it up to dry naturally. Finally, after an exfoliation ritual, it is recommended to hydrate your skin with our Damask Rose botanical repairing oil to complete the ritual.