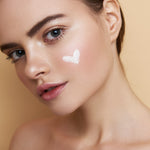 The risks of over-exfoliated skin
The "homemade skincare" trend continues to gain momentum and exfoliation is no exception. Aside from the risks associated with do-it-yourself concoctions and recipes, there is another trend that should not be overlooked and one of the biggest mistakes people make in their skincare routine: over-exfoliation. Many people still think that they need to exfoliate very often to get the best results and remove all the impurities embedded in their skin pores. This practice can be risky, leading to the opposite effects, especially on the face.
The downsides of frequent exfoliation include skin irritation, redness, bumps, dry skin, rashes due to skin pH imbalance and skin hypersensitivity. So, how can we tell if our skin has been overly sensitized? The signs are visually apparent and can take the form of disproportionately smooth and shiny skin, redness, flaking, sensitivity to other products in our beauty routine or even inflammatory acne. In the long run, this practice can lead to lasting damage.
In other words, an epidermis that is over-exfoliated runs the risk of losing its hydration and especially its protective function. In the case of acne-prone skin, the side effects are inevitable, and the condition is automatically aggravated. Each person is different and of course, so is their skin. This is also the case for the reaction to over-exfoliation but also for the time needed to regain a good balance. For some people, after a strict skincare routine and with the right products, positive results can be observed after one month, and for others less fortunate it can take several weeks of rehabilitation.
So, as soon as you begin to see these signs of aggression, it is imperative that you stop exfoliating. Repeated skin aggression can slow down the healing process, allow the introduction of bacteria and can leave the skin in a worse state than when you started. To summarize, to avoid any risk related to inadequate physical exfoliation, you should use an oil or serum followed by a soothing mask and finish with a rich, moisturizing cream with sun protection to minimize irritation, retain skin moisture and protect it from harmful rays.
The Renaissance exfoliating glove gives you a professional, effective, but above all safe exfoliation for all skin types from the age of 7! On the other hand, never exfoliate on burned skin, a wound or on skin with problems such as: psoriasis, eczema, rosacea. Finally, never use the exfoliating glove dry or on dry skin (dry brushing). The quality of your accessory is just as important. You are more likely to scratch and irritate your skin with a synthetic glove or one with a large fiber. The Renaissance glove is made of 100% natural, high-quality eucalyptus and spruce fibers and its microscopic loop weave ensures safe exfoliation without irritation. Finally, as you can see, other than the accessory used, the frequency of exfoliation is equally important. In general, skin should be exfoliated once or twice a week to promote cellular regeneration without causing damage. We recommend deep body exfoliation with the Renaissance Glove weekly and never after waxing or sunbathing!